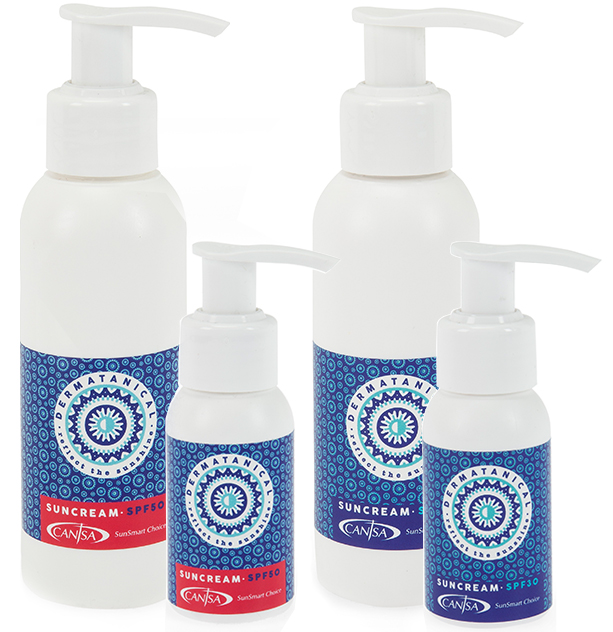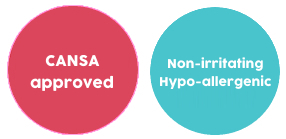 Bottles
Sun cream, sunscreen, suntan lotion are all names given to a cream that offers protection from the harsh rays of the sun. As Dermatanical sunscreen offers a richer consistency than most we like to call ours Sun Cream!
We offer SPF 30, SPF 40 and SPF 50 – CANSA approved. All bottles come with hygienic pump tops and are available in the following sizes:
50ml handy pocket size
100ml
125ml
200ml
500ml
One litre
We also supply bulk 5 litre containers.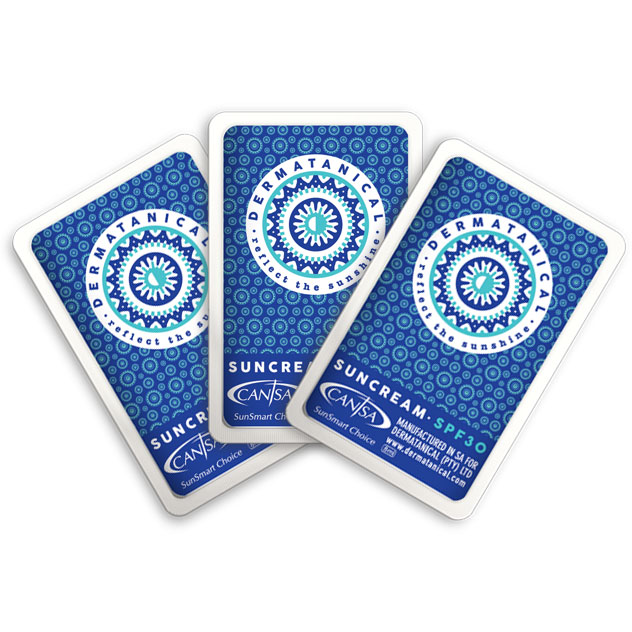 Hard back Innovative Sachets
This 8ml sachet is perfect for giveaways around the pool in lodges, hotels, guest houses and resorts.
Box of 10
Box of 25
Plastic container of 100
Bulk orders
This product is for giveaways only and not for resell
Dermatanical Sun Cream is a broad spectrum UV A and UV B Sunscreen.
UV blockers in the Dermatanical Sun cream are approved worldwide for use on adults and children. The sunscreen is non-irritating and hypo-allergenic.
Vitamin A & E provide free radical fighting anti-oxidants to help protect skin from visible signs of ageing.
Recognised by the Cancer Association of South Africa (CANSA) as providing protection against the harmful effects of the sun.
All size orders are welcome, no order is too small! Contact us now for fast, efficient personalised service.
Looking for a Sun cream sachet or bottle personalised with your own logo? 

SUNSMART
Our sun cream is approved by the Cancer Association of South Africa (CANSA).

ETHICALLY SOURCED
All our product ingredients are ethically sourced using South African suppliers.

LOCALLY MADE
A proudly South African company that manufactures its products in Cape Town.