our practical wedding favours
On your special day give your guests a practical wedding favour using Dermatanical products.
– Choose from our wedding themes below and personalize with your names and dates
– Design your own label to match your stationary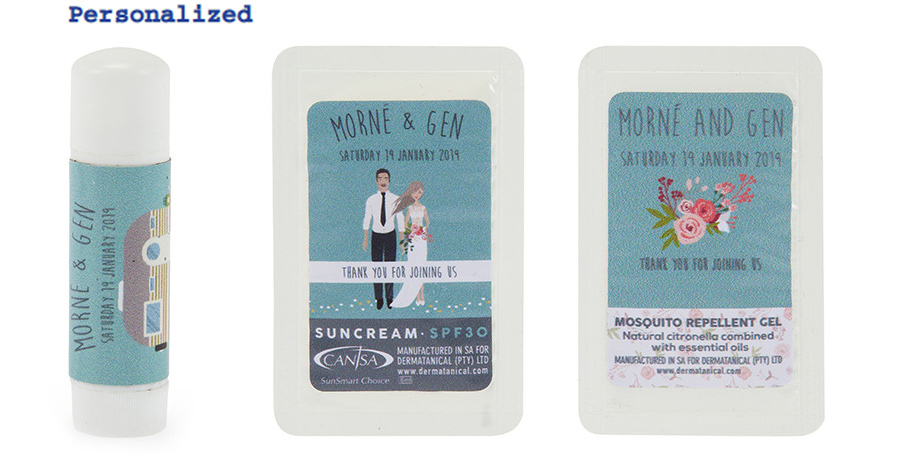 Dermatanical Products
Lip Balm
Sun Cream Sachet
Mosquito Repellent Gel Sachet
After Sun Gel Sachet







Lip Balm
– Dermatanical's unique lipbalm with an SPF of 15 contains Cocoa butter and Marula Oil.
Sun Cream CANSA approved SPF 30– CANSA approved SPF 30. Dermatanical sun cream is a broad-spectrum UVA and UVB Sunscreen. UV blockers in the sun cream are approved worldwide for use on adults and children. The sunscreen is non-irritating and hypoallergenic.
Mosquito Repellent Gel – Dermatanical Mosquito Repellent Gel contains contains natural citronella combined with essential oils. It dries quickly and does not leave a residue on your skin
After Sun Gel – Dermatanical After Sun Gel is formulated to cool down and heal the skin and helps to alleviate mild pain and swelling associated with over-exposure to the sun.
The Dermatanical Innovative Hardback sachets are hygienic and easy to open. The folding pressure creates the breaking of a film in the centre of the rigid backing and the product squeezes out in a controlled way through the opening in the centre.

SUNSMART
Our sun cream is approved by the Cancer Association of South Africa (CANSA).

ETHICALLY SOURCED
All our product ingredients are ethically sourced using South African suppliers.

LOCALLY MADE
A proudly South African company that manufactures its products in Cape Town.