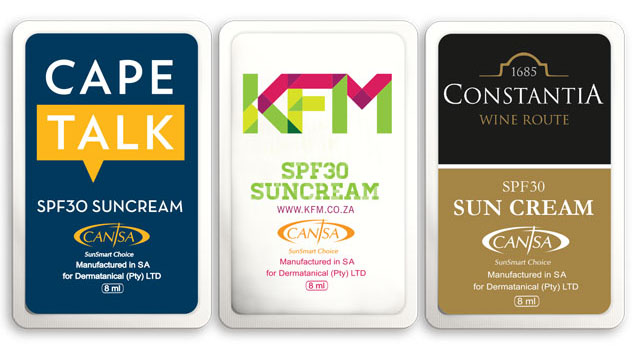 These are personalised for you to use at events to promote your brand. Excellent quality labels. Suitable for personal use, weddings, functions or corporate events. Makes excellent welcome gift suitable for room drops or corporate gifts.
Resale of the sachets is not permitted.
If you wish to buy the sun cream sachets for personal use please visit www.eezysun.com for your local stockists.
Easy to open – use one hand
Hygienic
Full colour print
Can withstand high pressure packaging in magazines
Flexible
Durable
Vacuum packaging increases shelf life
The folding pressure creates the breaking of a film in the centre of the rigid backing and the product squeezes out in a controlled manner through the opening in the centre.
Available as –
Individual sachet
Box of 10
Box of 20
Boxes can be filled with Sunscreen Sachets and branded with your logo on the outside.
our branded mosquito repellent sachets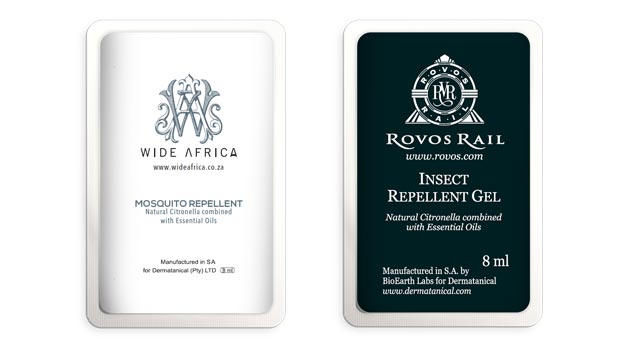 An effective natural mosquito and insect repellent available in our innovative hard back sachet.  This product can be branded and is perfect as a giveaway to clients staying in lodges or luxury accommodation.
This silky smooth gel which contains natural citronella combined with essential oils is gentle and easy to apply.  It dries quickly and does not leave a residue on your skin.
our branded sun cream bottles
Dermatanical Sunscreen is a broad spectrum UV A and UV B sunscreen.
UV blockers in the Dermatanical Sun Cream are approved worldwide for use on adults and children.
The sunscreen is non-irritating and hypo-allergenic.
Vitamin A & E provide free radical fighting anti-oxidants to help protect skin from visible signs of ageing
Recognised by the Cancer Association of South Africa (CANSA) as providing protection against the harmful effects of the sun.
Use your own logo to promote your brand with our high quality labels that are laminated to ensure maximum moisture resistance and durability.
Our bottles are available in the following sizes
50 ml handy pocket size with pump top
100 ml with pump top
125 ml with pump top
200 ml economy size with pump top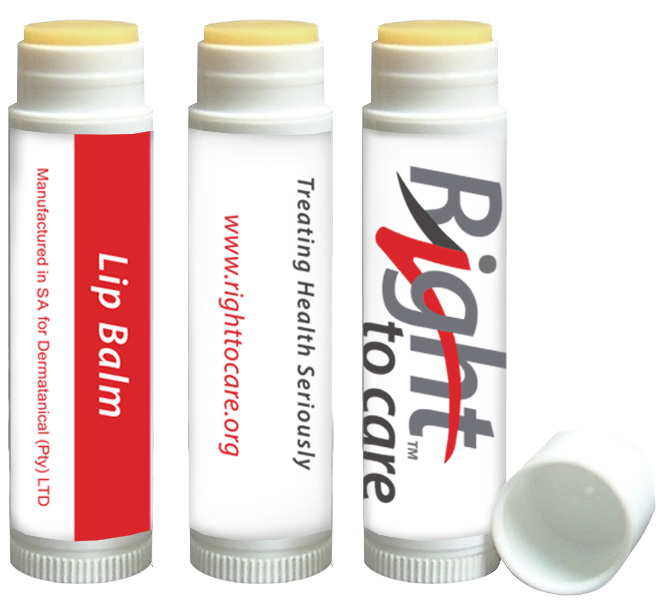 This unique Dermatanical formulation with Cocoa Butter and Marula Oil is specifically formulated to ensure our lip balm is
Nourishing
Locks in moisture to protect lips from sun, cold and wind
SPF15 to protect from the suns harmful UVA/UVB rays
24 month shelf life
Marula Oil naturally contains high levels of Vitamin C and anti-oxidants
Our formulation is unique with moisturising marula oil which contains Vitamin C and anti-oxidants and it has a SPF 15 to protect the sun's harmful UVA/UVB rays.
We also offer a hygienic fuji seal as an optional extra.
Labels are laminated to ensure maximum moisture resistance and durability



SUNSMART
Our sun cream is approved by the Cancer Association of South Africa (CANSA).
ETHICALLY SOURCED
We sell sunscreen at wholesale prices in bottles with pump lids in 50ml, 100ml & 125ml.
LOCALLY MADE
A proudly South African company that manufactures its products in Cape Town.